Behind The Scenes With Staedtler
We are happy to of had the chance to speak to the team over at Staedtler and gather fantastic insight on behind the scenes in the form of the below question and answer session.
How many countries does Staedtler sell products in?
STAEDTLER is located in 26 countries worldwide and has market presence in more than 150 countries
What is Staedtler's largest selling product of all time?
In the UK, the best-selling product is the iconic and much loved Noris pencil (the black and yellow stripy one!).
STAEDTLER is also the largest European manufacturer for; wood-cased pencils, universal pens, erasers, mechanical pencil leads, and is the world market leader for industrial modelling clay.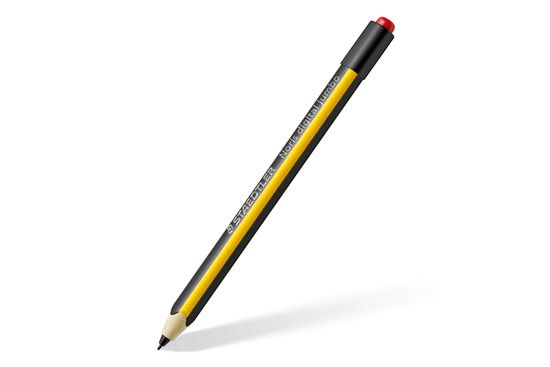 When was Staedtler founded and what was the first ever product launched?
STAEDTLER was founded by Johann Sebastian Staedtler in Nuremberg in 1835. A pencil maker by trade, J.S. Staedtler founded a pencil manufacturing plant in the city, known for its tradition of pencil-making, and registered the Noris brand as a trademark in 1901, which includes the now iconic Noris graphite pencil.
What will be the likely changes in this industry in the next few years?
It is likely that many industries will continue to feel the effects of the global pandemic over the next few years and will have to adapt new customer needs and expectations.
There has already been a shift towards more flexible and home working which has resulted in people creating their own office spaces at home and taking pride in the stationery products they choose to have as part of their home office.
We have also seen a positive impact on the arts and crafts market as a result of people staying at home and getting creative with increased interest in adult colouring and children's crafts. It's also clear that bullet journaling and hand lettering are trends that are still gaining popularity with many people using a variety of pens, colours and techniques to create beautiful lettering.
What are some of your favourite marketing campaigns?
STAEDTLER ran a great campaign focussing on the triplus range of ergonomic pens which aimed to promote mindfulness and wellbeing amongst young people through the use of creativity and colour.
Through a partnership with The Prince's Trust and its ambassador Fearne Cotton, STAEDTLER was able to support the charity's fundraising initiative called 'The Great Create' which was designed to help boost young people's mental wellbeing by inspiring them to get creative. This also included an exclusive virtual doodling session with Fearne Cotton to mark World Mental Health Day. You can find out more about this campaign here. You can also shop the triplus range of ergonomic triangular pens in up to 60 vibrant colours by clicking here.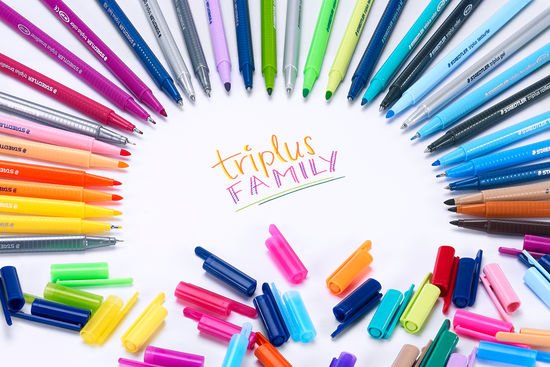 How do you stay updated on the latest trends?
There are trend reports that we can access, predicting future trends which always provide useful insight.
But one of the best places to identify current trends is social media. We love seeing what influencers are posting on Instagram as that provides completely up-to-date trends and also shows how the online community reacts to trends and what they really embrace.
With the upcoming 120 year anniversary of the Noris brand, why do you think the Noris pencil was and still continues to be so popular?
Thanks to STAEDTLER's commitment to quality and innovation, the Noris pencil has been the pencil of choice for children and adults for many years. From the classic hexagonal pencil to the jumbo learner's pencil and pastel coloured Noris pencil range, one thing is guaranteed ? you can always rely on a Noris pencil.
The Noris pencil is so iconic that a 2017 UK survey found that when members of the public were asked to draw a pencil, offering no other instructions or references to brand or design, 8 out of 10 respondents drew a striped pencil, half of which were in yellow and black.
The Noris pencil is firmly embedded in the minds and daily lives of schoolchildren and is the most widely used graphite pencil in schools across the UK. As a high quality, reliable writing tool, the Noris pencil helps children with their first writing experiences and continues to be a part of their lives throughout their school education and beyond.
In the spirit of STAEDTLER's tradition of innovation and design, with the development of new technology and the introduction of new ways of teaching and learning, STAEDTLER introduced the Noris digital stylus in 2017. With this development, STAEDTLER has evolved the Noris pencil once again to meet the changing needs of its customers.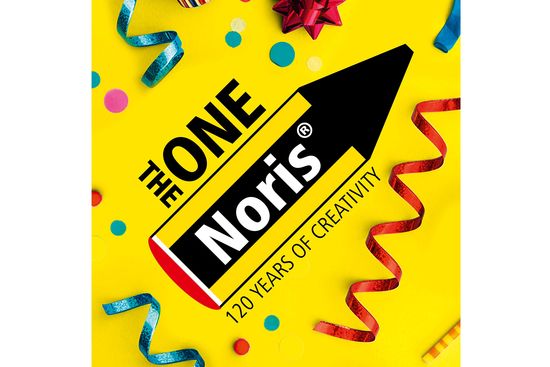 Staedtler had quite a large impact in the adult colouring book trend based of a collaboration with an artist. How important are social projects to the brand?
We are proud to work closely with a variety of creators around the world. We work hard to encourage creativity, share creators' work on our website and social media pages, and support them as much as we can.
Our website is filled with projects that creators have produced using our products. We also work with our customers to gain feedback on new products and inform our product development.
What is the background behind Staedtler's Iconic Logo?
The head of Mars icon is a central part of STAEDTLER's logo. Over a long period of time, the company's most successful product trademark slowly extended to the company name, superseding the former half-moon trademark to become the umbrella brand for the STAEDTLER brand and the stamp used on products.
In 1919, the word 'Mars' was incorporated into the company name. In 1949, the head of Mars replaced the half moon as the graphic component of the STAEDTLER umbrella brand. However, the half moon was still used on products between 1949 and 1969. By 1969, the head of Mars had become an integral part of all product stamps, having completely replaced the half moon.
It was common for company founders to name their company or products after historic or mythological characters because these created positive associations among consumers and boosted sales. Around 1900, when the MARS wordmark was registered, there was great enthusiasm for antiquity. A number of Nuremberg-based companies from this era bore the names of antique gods and heroes, e.g. Hercules Zweirad-Werke, which manufactured bicycles and motorbikes.
In 1908 the cover of a catalogue was decorated with a helmeted head, reminiscent of Pallas Athene. In 1912 the head of a Roman warrior appeared, later identified as Mars, the Roman god of war. But both pictures had never been used as a trademark. Then, in 1925, a head was created, that was nearly a composition of the pictures used before. This head was used as a trademark now.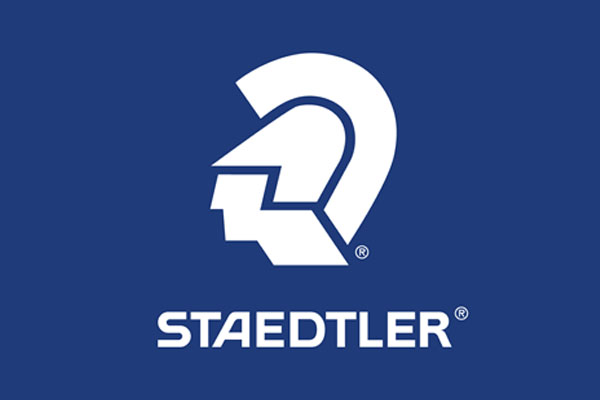 The real question people want to know... Does the blue end of an eraser really remove ink?
Yes! The blue end of our Mars plastic combi 526 508 erasers removes India ink from transparent paper and matt drafting film.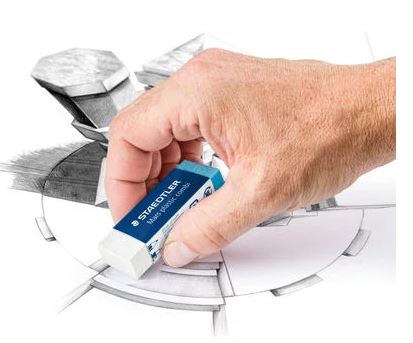 Wrapping up
Thank you to all the wonderful team over at Staedtler for taking the time to answer our questions and give such great insight to your brand & products.