Fountain Pen Nib Sizes & Types - A Guide
Choosing the right fountain pen nib size can be difficult. If you have no idea where to start, or you are buying for somebody else then look at the size of the handwriting. Those with small handwriting will generally prefer a finer nib grade, while broader nib grades are generally more suited to larger handwriting. The following is a guideline of the different types of nibs available, and their best use case.
Standard Nibs
Standard nibs are normal fountain pen nibs, as you are probably used to, which come in all sorts of different sizes.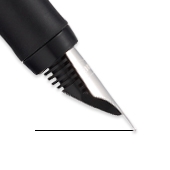 Extra Extra Fine
An extremely fine point for precise figure work. Not intended for general writing.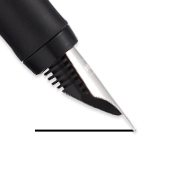 Extra Fine
For fine line writing with a light touch.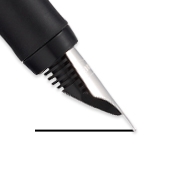 Fine
Excellent for general writing and note taking. Moderate pressure produces a fine line.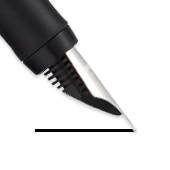 Medium
For average writing pressure, average line width. General all-round use.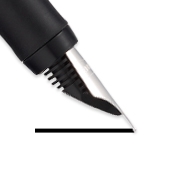 Broad
A heavier, rounded point for wide lines.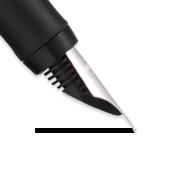 Extra Broad
A large rounded point excellent for heavy lines and bold signatures.
Oblique Nibs
Oblique nibs are intended for those who slant the pen when they write and are precision ground at an angle on the tip of the writing point. A person holding the pen at an angle can get the same writing effect and smoothness of line as someone holding the pen straight.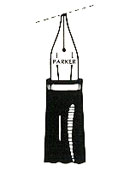 Oblique
Generally used by right handed writers.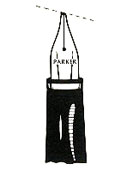 Reverse Oblique
Generally used by left handed writers.
Italic & Calligraphy Nibs
An italic nib provides flair and line variation in handwriting, while maintaining a smooth writing experience. A calligraphy nib tends to have sharper corners which gives a crisper line and more variation in line width. Writing with a calligraphy nib tends to be slower as the nib needs to be held at the correct angle continuously in order to prevent skipping.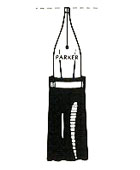 Straight italic nib
Cut straight across. Provides flair and line variation.

Calligraphy nib guide
This guide from Manuscript helps to show the difference in the most common calligraphy nibs.