Sometimes you need colour to jump off the page.
It's not about getting the exact right shade. Paper isn't the same as digital. There are other variables in play, like the warmth of light in the room. Or you're outside, and the sun or moon is as much a participant in your presentation as the paper stock.
In any case, there's no matrix of LEDs ready to stand behind your work and enforce its correct interpretation in the retina. Anything you write or draw is at the mercy of nature.
If you're willing to accept these terms, you'll be rewarded with the power of texture. None of the great artists of past centuries would've had half their influence without it.
This isn't about brush strokes. Those, too, set great painters apart. But this is something more visceral. What do you see when you look at the page from a different angle? What does your brain imagine the ink feels like, sounds like, tastes like?
You don't need to be a great artist to make use of texture. You don't even need to understand what the effect will be before you put pen to paper. You just need to experiment.
The first time you use a textured gel pen feels a bit like plugging in an electric guitar after a lifetime of playing acoustic. Things get LOUD.
Two of the most popular product ranges in this category are the Sparkling, Metallic and Broad pens from the Uni-Ball Signo series, and Sakura's Gelly Roll line, which includes Stardust, Souffle, and Glaze options amongst others.
These two brands offer remarkably different writing and drawing experiences. We'd recommend each of them for different situations!
Gelly Roll Stardust
Photo from Colouring in the Midst of Madness:
These pens are smooth. They reflect a lot of light and work great on dark backgrounds.
Signo Sparkling
The sparkling set from Uni-Ball's Signo range may be the perfect tool for gift tags, greetings cards, and anywhere else you need to put some playful, decorative text in a normal-sized hand.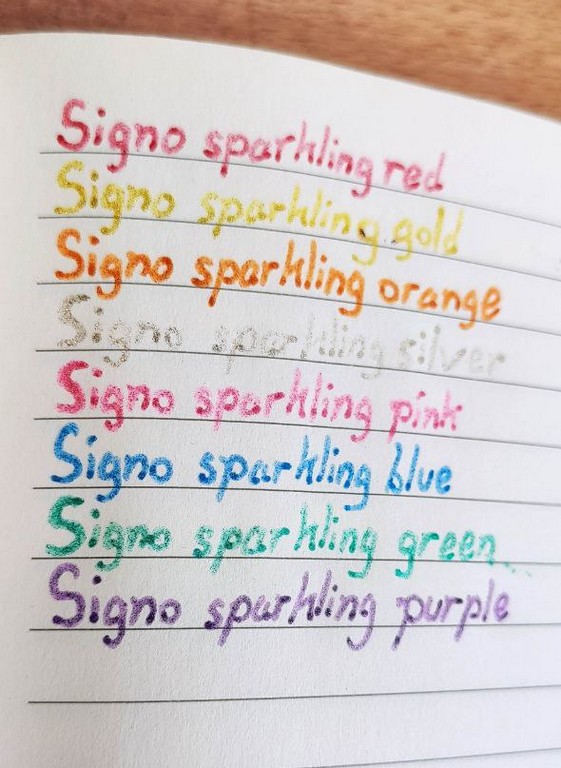 These pens do take a little getting used to. The technique is quite different from most other writing instruments, in that the amount of pressure you apply makes little difference to the flow of the gel. It can be tricky to avoid darker, thicker marks at the beginning or end of your stroke.
But if you use them patiently, they're unbeatable for eye-catching lettering.
Signo Broad vs. Gelly Roll Metallic
To get a more precise idea of the differences between these two brands, here's one of the most alike pairs - the Signo Broad and the Gelly Roll Metallic, both in gold: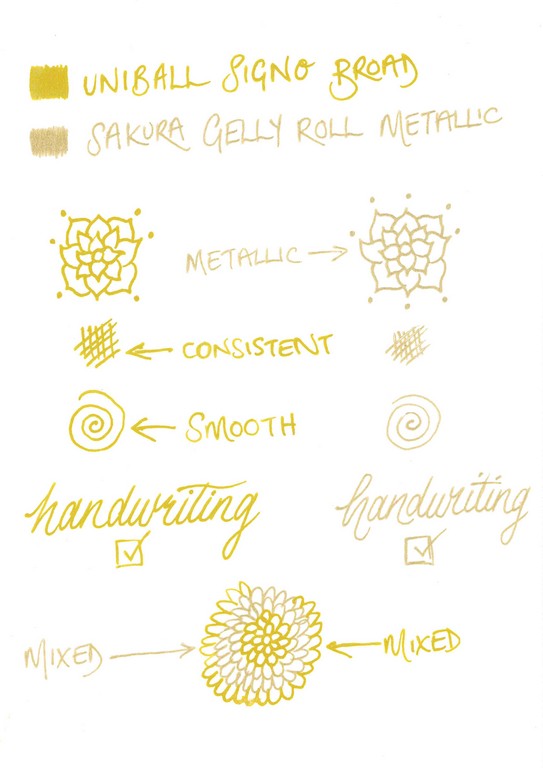 As a general rule, the Gelly Rolls are preferred by artists for their subtlety and elegance, especially when filling in. The Signo range, however, is easier to use, with a smoother paper feel and, for many shades, a louder result. That makes them the preferred choice for more casual users and for writing.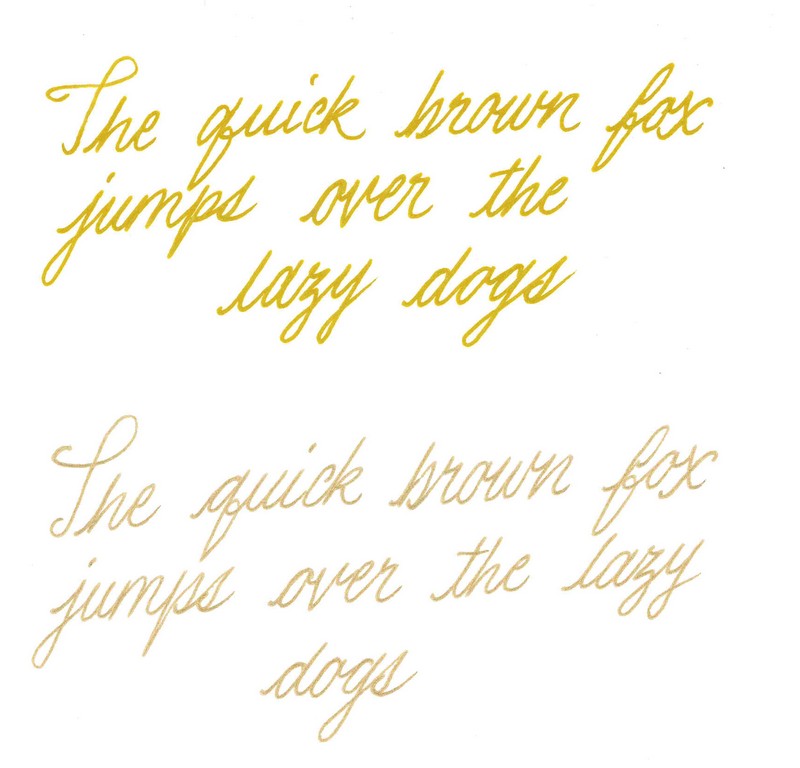 Drawing Mandalas on Dark Paper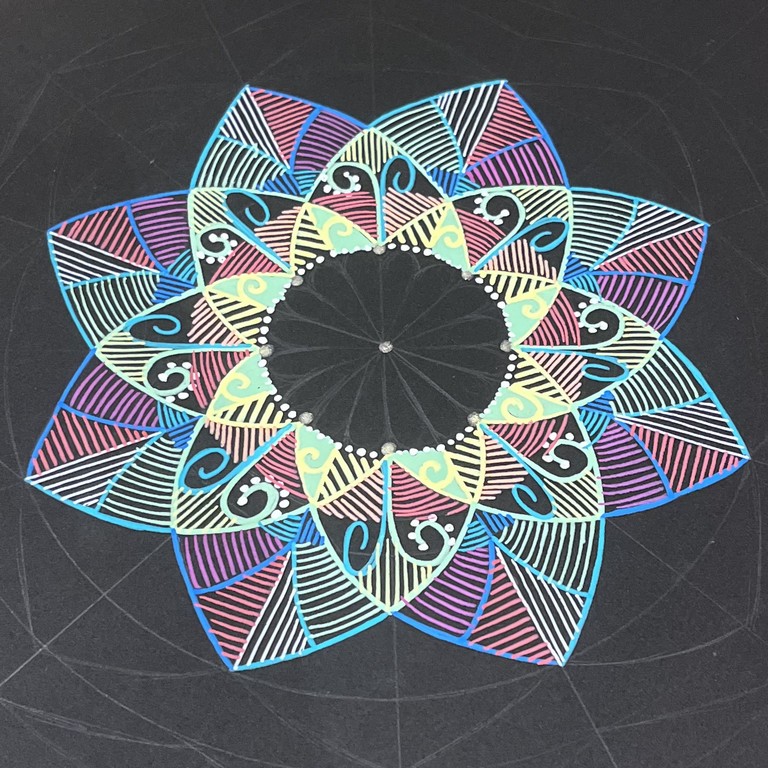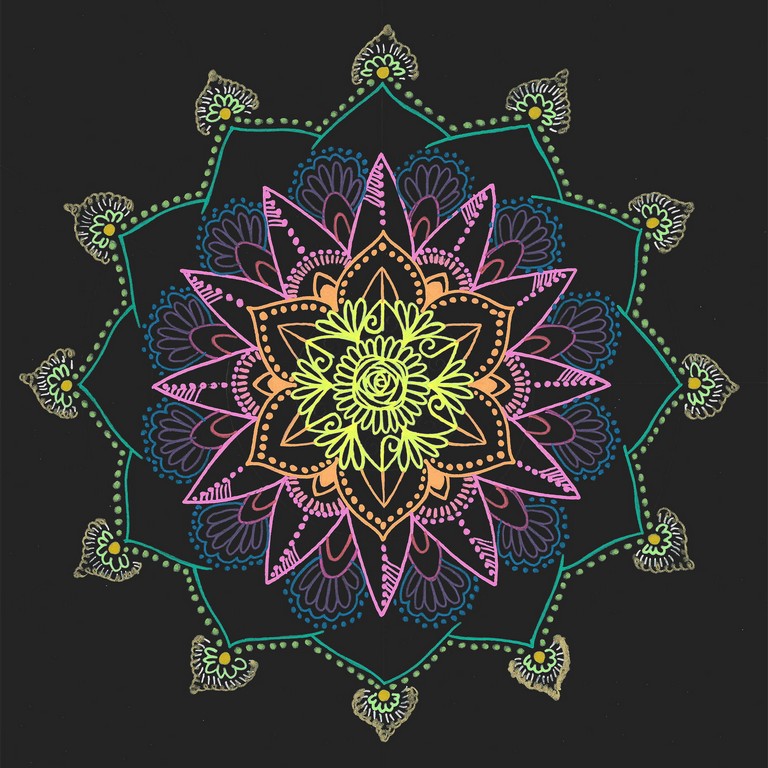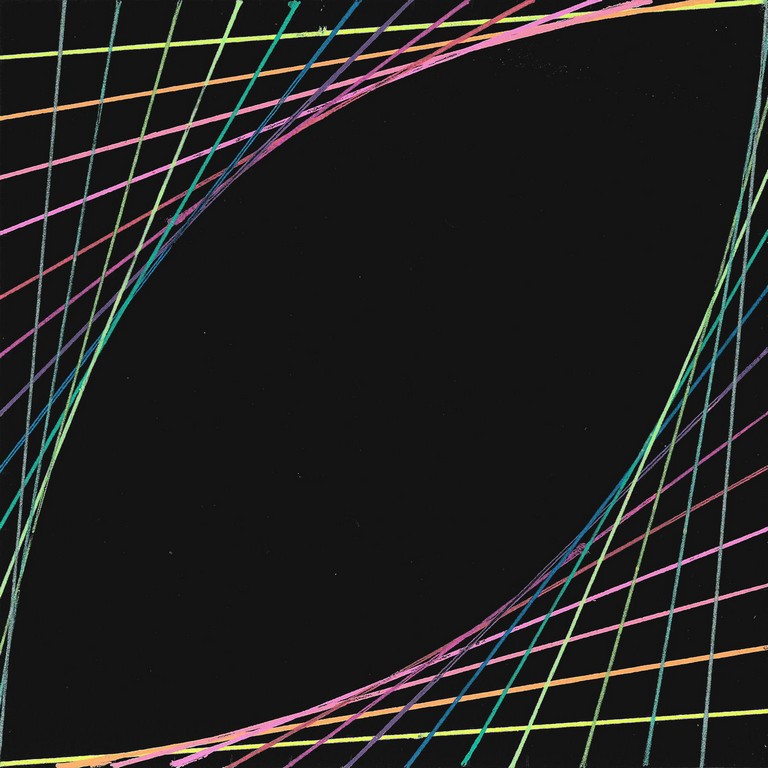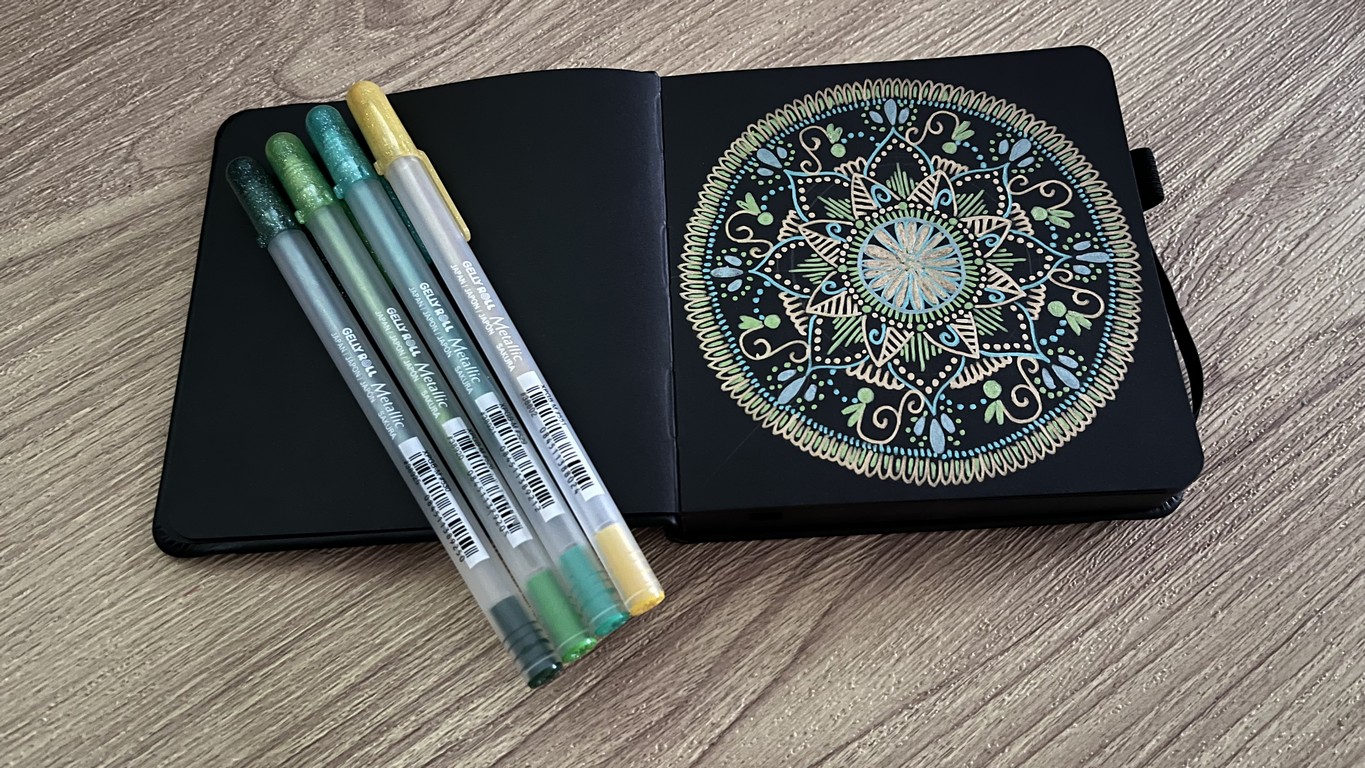 The Must-Haves from Each Brand
Both Uni-Ball and Sakura have huge product ranges. It can be overwhelming trying to decide which gel pens to get started with.
For complete beginners, our recommendation is to pick up a pack of Signo metallic pens. Gold and silver are the most popular, and for good reason. These pens give you an effortless way to make your creations more eye-catching.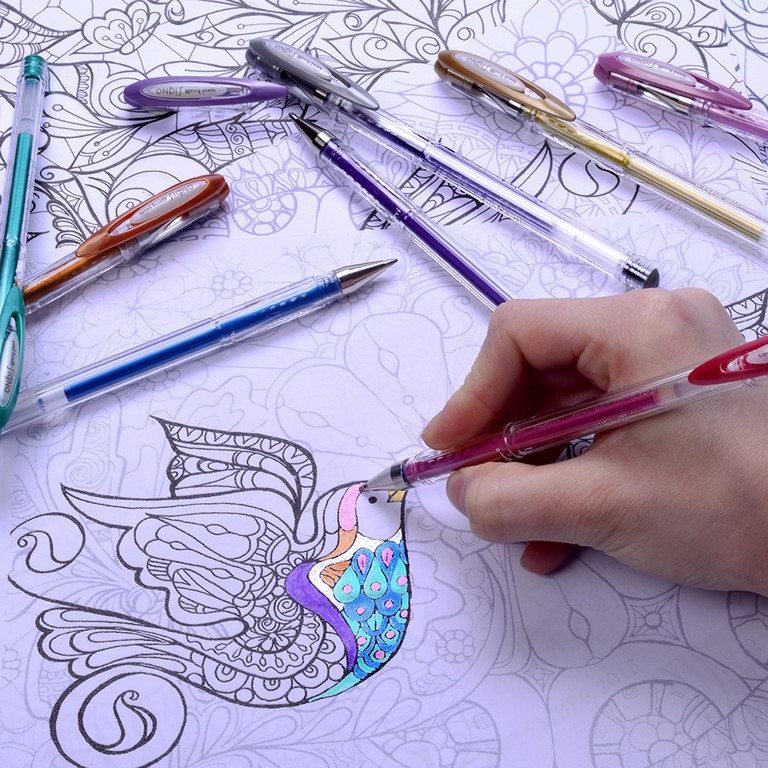 They're available in handy sets of gold & silver, gold, silver & bronze, or a complete pack of 8 colours. These are some of the most versatile gel pens around, great for writing or drawing on dark or light backgrounds.
For experienced artists, or if you're looking for more specific or uncommon shades, it's worth checking out Sakura's Gelly Roll metallic range as well. Sakura offers some great themed 3-packs, like 'nature,' 'ocean,' and 'sweets,' alongside bigger sets.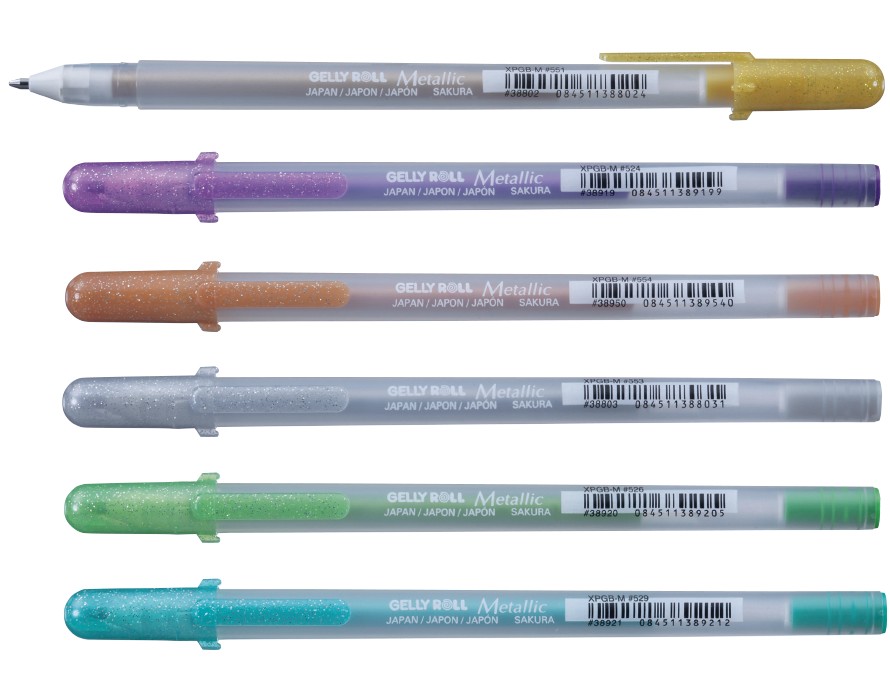 For glittery and fluorescent effects, try a Gelly Roll stardust or moonlight pack. Or if you want an extremely versatile set, you can get all three of the most popular Gelly Rolls in a 24-pen variety pack.
Some more experimental options are the glaze and souffle gel pens, which each create a fascinating 3D effect. They're better suited to more challenging surfaces like metal or glass, but have a longer drying time.
At the opposite end of the spectrum, if you're looking for something closer to a regular pen you can write with comfortably, check out Uni-Ball's Signo Gelstick. These are the perfect choice for longer writing sessions with just a little bit of drawing or decorative flourishes.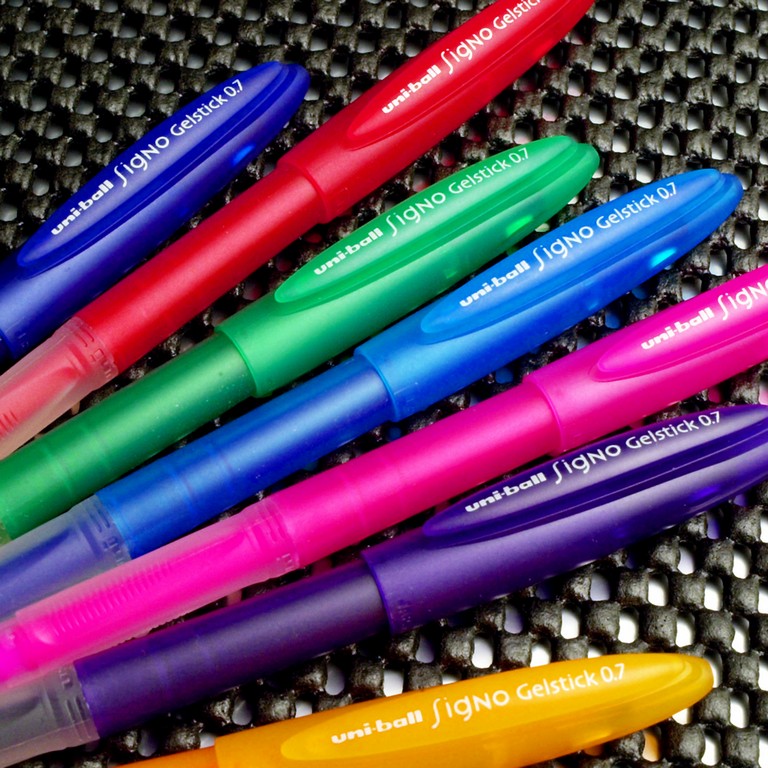 Finally, for a mix of handwriting and drawing on coloured paper, your best choice is probably the Signo broad. These are a bit more 'sober' than most of the Signo range, but much better suited to drawing than the Gelsticks or other writing-oriented Signos. If the most important thing is clarity against a dark background, these are ideal.
Gel Pens Are Not Just For Kids
When we think of gel pens, we tend to think about school. But they can be an amazing tool in the hands of an artist, and for journal-keepers, crafters and letter-writers they're a handy way to add depth to their work.
Try them. Experiment with some new textures. These pens will win you over in no time.