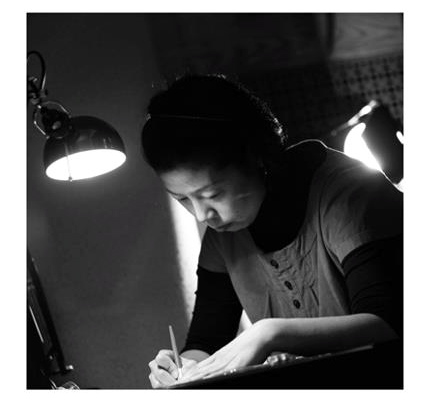 Calligrapher Keiko Shimoda, 42, believes the handwritten word is a unique and special art form. As a young girl in Japan, she was heavily influenced by her grandfather who adored fountain pens.
"My grandfather would always use a fountain pen whenever he wrote a letter. I'm using his fountain pen now. It has this feeling of luxury and being adult.
"Handwriting makes everything so personal and special. It can express the feeling of being wise, but it's also useful as an everyday craft," says Keiko.
The Pen Chooses the Paper
As a professional calligrapher, Keiko puts a lot of time and effort into her handwriting.
"Being a calligrapher, you need to be visually trained. So you will want your handwriting neat and tidy and nice."
She says the style of fountain pen and ink she uses is important to create the visual look she desires.
"It's about the texture and feeling. The two fountain pens I have been given are both quite soft and thick lined ones.
"Ink fades away a little bit after a long time, and that makes things more interesting. It looks vintage and antique in a nice way."
As well as fountain pen and ink choice, Keiko believes the type of paper you use also contributes to the handwriting experience.
"Personally I use good paper if I want to write with a fountain pen. That combination makes it more special rather than using cartridge paper or a biro.
"I think the fountain pen chooses the paper. If you buy a greeting card from the shop and it has a really slippery or shiny surface then you usually can't use a fountain pen. It really depends on the situation and the purpose."
Handwriting Helps You Find the Right Words
Handwriting has been a big part of Keiko's life since she was four years old. She thinks that things are different for the younger generation these days though, with easy access to modern technology.
"My generation didn't have emails until I was 30, so before that I used to write letters. The younger generation is more familiar with computers and mobile phones," she says.
For Keiko, penning handwritten letters to loved ones is much more meaningful than digital messages such as emails or Tweets.
"When your friend has lost someone from their family and you want to say sorry, you don't really want to use email. It's those kinds of occasions when something handwritten makes a difference."
A Letter is a Keepsake
With social media being so popular, people are less likely to hand-write personal letters and notes to people they know.
"It's all to do with sharing the moment so you get instant feedback from your friends. In that way, Facebook and Twitter are so powerful. With letters you can't get that 'sharing at the same time' feeling. There is always a time gap, as the fastest service is still next day," says Keiko.
"With letters you might want to keep them as the actual physical thing. You don't really print out one of your friend's emails to keep."
Keiko believes the handwritten word should be preserved as it's something which you can treasure forever.
"Handwritten lettering or anything handmade I think is something special. It makes things unique and personal," she says.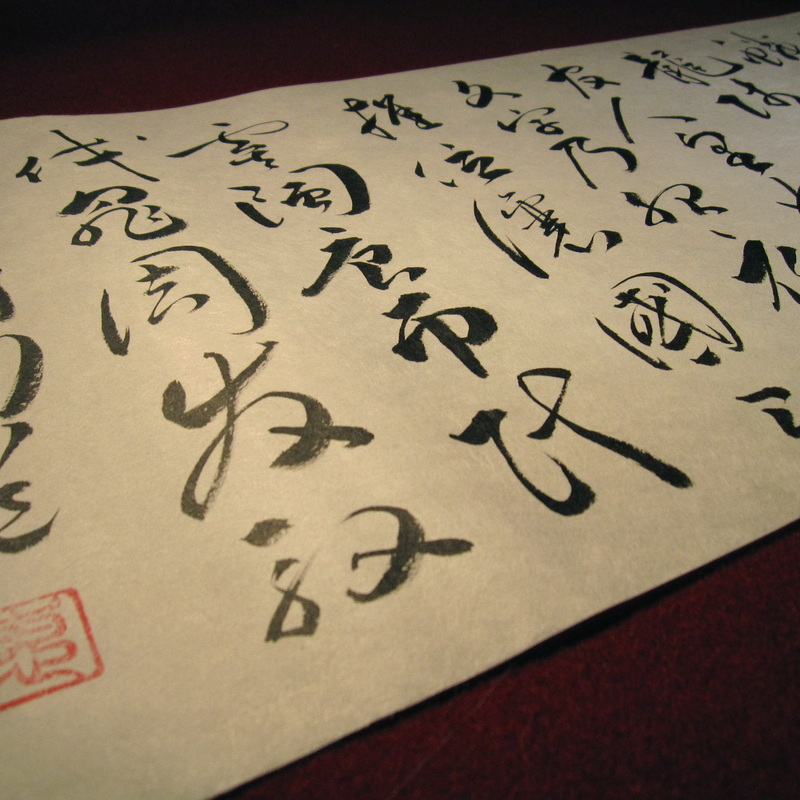 Nothing Beats the Handwritten Word
Keiko runs her own creative calligraphy design business. She produces place cards, invitations and certificates as well as detailed handwritten art work. She has worked on a range of projects with clients that include Mulberry and Burberry.
Keiko is multi-skilled as she can combine traditional and contemporary handwriting styles, and work in both Japanese and Western calligraphy.
"Japanese calligraphy is slightly different from Western calligraphy. With Japanese calligraphy you use a brush, and with alphabet calligraphy you normally use a pen with a metal nib.
"The English alphabet has only 26 letters whereas the Japanese alphabet has loads more. The combination of letters is quite different as well. Also, with Japanese calligraphy you write top to bottom vertically," she says.
When Keiko first came to the UK from Japan in 2001, she spent time working in an office before moving on to a job in calligraphy – which helped pave the way for establishing her own business.
"It was okay working in a normal office but I didn't love it. I always felt like it could be someone else, it didn't have to be me. I wanted something more special.
"Before I started my own business, I was skilled enough to get a job in London as a graphic designer and calligraphy assistant in a wedding stationery company. It's important to like the job you do because you have to keep on going with it."