Engraved Pens
Are you looking to get your pen engraved with a special message or name? We use state of the art engraving technology to personalise your items so they are unique to you or your giftee. We've engraved pens for all occasions; birthdays, Christmas, anniversaries, weddings, christenings, graduations.. The list is endless.
We offer a selection of three fonts; Script, Roman & Futura and over the years have acquired a wealth of knowledge and experience in the best way to engrave individual pens for the ideal finish.
We can engrave whatever you like on the pen, up to 16 characters, and we can also engrave logos depending on the finish of the item, and the logo in question. All engraving is done on the cap of the pen, unless otherwise specified or it wont fit. For more information on this see the engraving examples, or contact us.
Engraving can be done quickly, therefore all engraved orders have the same order cut off times as our regular orders, we work hard to get the orders to you as fast as possible.
For information on bulk engraving orders please contact us
Engraving costs £6.95, and if you order a pen set, we will engrave the second item free of charge.
Shop Engraveable Pens
The Pen Engraving Process
The full procedure for any engraved pen purchased from us is always the same, and we try to keep it as simple as possible for you. We use the latest engraving technology to ensure that you get a premium finish that exceeds your expectations.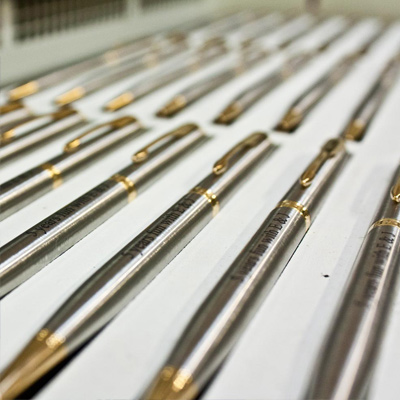 Add the engraving
The first step is to add the engraving options to your pen before you add it to your basket. On the individual product page you will find a dropdown menu titled 'Would you like your pen engraved?' which will open up further options allowing you to choose your font, and message.
We use three different fonts for engraving; Futura, Roman & Script and each one has a preview image of its final finish. If the engraving is done on the laser machine, the script font will appear more like the Monotype Corsiva font. See the engraving examples to see the different finishes.
You also specify your message here, which can be up to 16 characters. This can be anything you like. If you have a request for more characters feel free to contact us and we can advise if it will fit.
Complete the order
Once you've added your product to the basket, just check out as normal. The order will come through to us and be picked from the warehouse and passed through to the engraving department.
The pen engraving department
Once in the engraving department your order will be evaluated by an engraving expert who will decide the best machine to do the engraving on. We have two types of machines here, a diamond engraver and a laser engraver. The diamond engraver uses a small diamond bit to remove material and cut into the pen, the laser uses a beam of light to remove paint.
We tend to do glossy finish pens on the diamond machine because if the trim of the pen is silver, and the material of the pen is brass the colours wont match, but on a diamond engraved pen you can infill the engraving so that the colour matches the trim. The laser machine is mainly used for matt finish pens (where the diamond machine would chip the paint), pens where the engraved colour would match the trim and stainless steel finish pens.
Stainless steel pens will nearly always use a thermal bonding process in engraving, which creates a black finish. See the examples section for more information.
If you would like exact details on how your pen will be engraved, please contact us.
Once the engraver has decided on the machine, your pen will be engraved to your specification and sent through to the dispatch department for quality control and sending out to you.
Most engraving is done on the pen cap, however if requested or it will not fit on the cap, we will do it on the barrel. Pens are engraved so that when held in the hand, the text can be read from left to right.
We aim to do all of this and still meet the regular order cut off times, so an engraved order has no time delay in getting to you.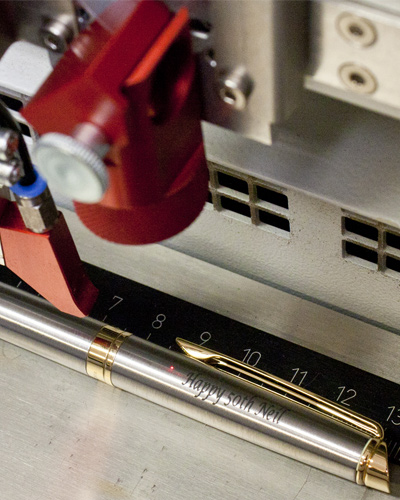 How to add engraving to your pen
To add engraving to your pen it's really easy, just follow these simple steps
That's all there is to it. Once you have checked out and the order has come through to us, your pen will be sent through to our experts in the engraving department for it to be personalized exactly how you've asked for. If we have any queries along the way we will always get in touch before starting the engraving process. We work hard to get the engraved pens done to the same order cut off times as a regular order.
Examples of engraved pens
Below you will find various examples of engraved pens, detailing which machine they were done on, and the technique used. For more information on the way we engrave pens, and which machine we use please see our frequently asked questions.
Pen engraving requires lots of expertise, and our team have plenty of that. Below you will find a series of our most commonly asked questions, however if you have anything else you want to ask, feel free to get in touch.
How long does it take to engrave a pen?
Our meticulous engraving process and quality control means we will only engrave one pen at a time. However we are much practiced and very efficient, so engraved orders have the same cut off times as regular orders, we just work extra hard to get the order done in time.
How many words can you engrave on a pen?
There is a limit of 16 characters (including spaces) because it is difficult to fit any more on the pen. The more characters used, the smaller the result, so we recommend as few characters as possible, particularly when choosing the script font. This being said, all pens are different sizes, so if you have a special request for further characters please [contact us] for further advice.
Can you engrave upper and lower case?
Yes, we can engrave both. Words written in all uppercase are not recommended for the script font, because it can be hard to read. Roman and futura fonts are more suitable for uppercase words.
Can you engrave logos?
Yes, we use laser engraving technology to precisely engrave your logo onto the pens. The logo would need to be black and white, with the black being the part to be engraved. Contact us for further information and to arrange this.
What happens with engraving for left handed people?
We engrave all pens so that it can be read from left to right when held in the hand, when engraving for a left handed person, we just do it the other way around. You should be able to specify when you add the engraving, which way round you would like it.
Which part of the pen do you engrave?
Pens vary in shape, size and material so the style and position of the engraving will vary from pen to pen. Therefore, pens may be engraved on either the cap or the barrel depending on the shape of the pen. We use our expert judgement to find the most suitable location for your engraving.
Like all professional engravers, we engrave on the cap where possible so that when the cap is placed on the end of the pen during writing the engraving can be read from left to right. By engraving on the cap there is also less interference with the grip while writing and the engraving is at its most visible with either the cap on or off.
If you would specifically like the engraving on the barrel of your pen, please explain this to us via the 'special instructions' box at checkout and we will do our best to carry out your wishes.
What font do you use?
We offer 3 standard types of fonts - Script, Futura and Roman.
We use two types of engraving machines - Laser and Diamond. Different pens suit different machines so we use our experience to use the best machine for your order. We will nearly always use the laser machine for stainless steel engravings to give a black finish to the wording.
Script
Often the favourite choice for a fountain pen and generally suited to simple names (e.g. John Smith). This is generally not suitable for dates or straight runs of capital letters as these can be difficult to read. The letters are sloped and take up a lot of horizontal space, which can become quite small on smaller pens. The script font that we use on our laser engraving machine is quite different to the one on our normal engraving machine, this applies to all stainless steel pens and a few other types. For more information on this please feel free to contact us.
Futura
Futura, which is a Sans Serif font gives a modern look to the engraving and is suited to plain pens and often younger people. Our favourite font - It is capable of taking capital letter runs and dates in its stride, and is the easiest font to read if you are typing to get a lot of characters on a small pen. If you are in doubt then use this choice.
Roman
A traditional Roman type font with serifs. A classical type font, often suited to traditional fountain pens or for formal type gifts. We use Roman or Times New Roman.
Please note that we do not recommend engraving uppercase words or dates in the script font as they can be hard to read.